Balboa Ultrazo₃ne™ Sanitation Systems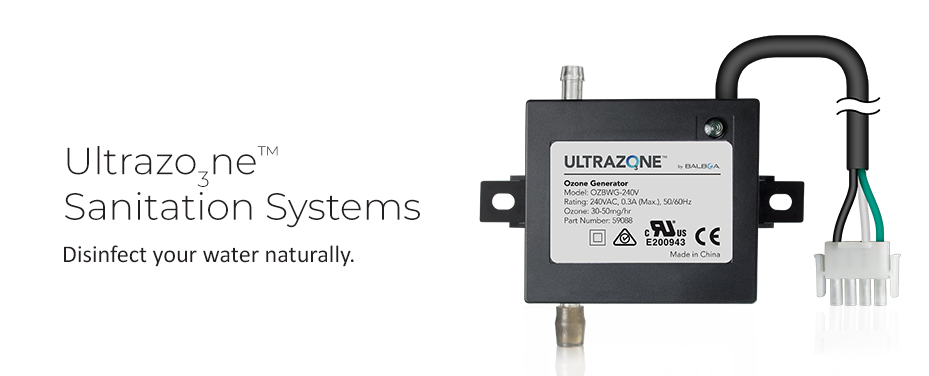 THE SPA OZONE SYSTEMS ARE DESIGNED FOR U.S.A. AND INTERNATIONAL USE.

The Ultrazo3ne™ family of ozone generators were designed by Balboa, the leader in reliability in spa controls for over 20 years. Our compact ozone generators have a smaller footprint and save energy as well. Balboa's ozone generators are fully epoxy potted protecting them from harsh corroding environments, producing stable ozone output over a wide range of temperatures.


---
WHY BALBOA'S ULTRAZO3NE™ GENERATORS ARE SUPERIOR





---
ULTRAZO3NE™ FEATURES AND BENEFITS



Ultrazo3ne™ produces powerful oxident
Ultrazo3ne™ operates at a relatively cool temperature
Ultrazo3ne™ disinfects water by killing viruses and biological contaminants
Ultrazo3ne™ reduces the use of chemical levels which means reducing the
discomfort of skin and eye irritations

Low power consumption
Designed and tested specially for Spa applications

Available in 120V or 240V, 50/60Hz

UL/cUL, CE & AS/NZS certified
Small and compact unit
---
MORE FLEXIBILITY WITH MORE CHOICES
---
ULTRAZO3NE™ : DIMENSIONS & DIAGRAM


---
ULTRAZO3NE™ : SPECIFICATIONS



| | | | |
| --- | --- | --- | --- |
| | 120V | 240V | 100-240V |
| Agency Model No.: | OZBWG-120V | OZBWG-240V | OZBWG-100-240V |
| Bulk Part No.: | 59087 | 59088 | 59297 |
| Kit Part No.: | 59087-KIT | 59088-KIT | 59297-KIT |
| Rating: | 120VAC, 0.1A (Max), 50/60Hz | 240VAC, 0.17A (Max), 50/60Hz | 100-240VAC, 0.06A (Max), 50/60Hz |
| Ozone Output: Air flow @0.8L/min | 50mg/hr | 50mg/hr | 50mg/hr |
| Approval Marks | UL/cUL | UL/cUL, CE, RCM, IPX5, WEEE | UL/cUL |
| Cable: | 5ft cable 4pin AMP Connector | 5ft cable 4pin AMP Connector | 5ft cable 4pin AMP Connector |
Ultrazo3ne™ Sanitation Systems







Ozone Adapter AMP to J&J















21702 – to J&J PSA-103-07
21703 – to J&J SS2 PSA-103-02
21704 – to J&J SS2 PSA-102-FM
21705 – to J&J SS2 PSA-103-L
21706 – to J&J SS2 PSA-103P-3
---




| | | |
| --- | --- | --- |
| | | Note: Balboa's NEW small and compact Ultrazo3ne™ technology replaces 55441 in the more competitive package. |
---
DOWNLOADS

To download the Spa Ultrazo3ne™ sell sheet click here »
To download the Spa Ultrazo3ne™ installation guide click here »