Titanium Heater
1. NEW! 3 welded stabilizers, made from the same metal as the element, minimize
vibration while adding durability and reliability, even under high flow conditions.

2. NEW! A structural bulkhead bracket is now standard on all Balboa heater elements.
This new feature assures that the element is always centered in the heater housing
during the assembly process. By assuring manufacturing repeatability, product
quality is enhanced. The end result: Consistently smoother flow around the
element, combined with decreased harmonic vibration, all add up to improved
durability and reliability.

3. NEW! Crimped bulkheads allow precision alignment during manufacturing.
A chemically-inert epoxy seal, instead of brazing, improves corrosion resistance.
Each assembly is tested to 60 psi, assuring a leak-free installation.

4. NEW!  Computerized element bending specs simplify heater assembly and
improve manufacturing repeatability. This new design allows for maximum clearance
between the element and the housing, providing a rattle-free heater at all flows.


Placement of Titanium Heater in a Spa System
Note: All spa heater must be installed by a spa technician.
Special tools are required to position and install the heater
to function properly.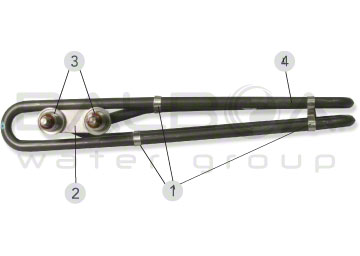 For more information on our Titanium Heater
click here »
| | | |
| --- | --- | --- |
| Material Numbers | Descriptions | System Models |
| 55628 | Heater 1.5kw Titanium M7 Stud 2x2 Inch End Tail | VS/GS |
| 55633 | Heater 1.5kw Titanium M7 2x2 Inch End Tail | EL/GL |
| 55627 | Heater 2.0kw Titanium M7 Stud 2x2 Inch End Tail | VS/GS |
| 55632 | Heater 2.0kw Titanium M7 Stud 2x2 Inch End Tail | EL/GL |
| 55626 | Heater 3.0kw Titanium M7 2x2 Inch End Tail | VS/GS |
| 55631 | Heater 3.0kw Titanium M7 2x2 Inch End Tail | EL/GL |
| 55625 | Heater 4.0kw Titanium M7 2x2 Inch End Tail | VS |
| 55630 | Heater 4.0kw Titanium M7 2x2 Inch End Tail | EL |
| 55689 | Heater 5.5kw Titanium M7 Stud 1.5 Inch End Tail | VS/GS |
| 55690 | Heater 5.5kw Titanium M7 Stud 1.5 Inch End Tail | EL/GL |
| 55624 | Heater 5.5kw Titanium M7 Stud 2x2 Inch End Tail | VS |
| 55629 | Heater 5.5kw Titanium M7 Stud 2x2 Inch End Tail | EL |
Read more about our M7 technology click here »