Aromatherapy
Aromatherapy is designed for U.S. and International use.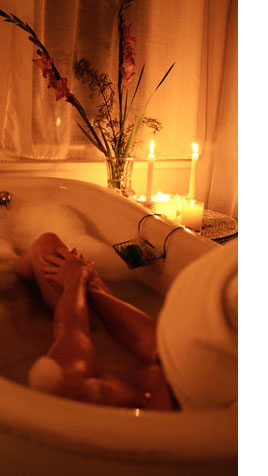 With various scent options you are able to truly customize your bathing experience. For the ultimate, insert the bead pouch
into the dispenser, and activate either your blower or jet pump depending on your system.


Relax yourself with the sweet, peaceful fragrance of Chamomile. Chamomile is thought to calm the spirit, promote good health,
and relieve stress. It is a natural medicinal herb that gently relaxes the mind and body, preparing one for sleep.


Soothe your senses with the sweet, herbaceous aroma of Lavender. With a peaceful aroma, lavender is a wonder to experience,
especially for the nervous system. It has been used to assist in treating depression, headache, hypertension, insomnia, migraine,
nervous tension, and other stress related conditions.


Refresh and rejuvenate with the aromas of peppermint and eucalyptus. These scents clear the head and sooth the emotions,
sooth the digestive system, relieve tired feet and mind.


Unwind and escape with the beautiful scents of Rose, Ylang Ylang, and Sage. This sensual aroma soothes and uplifts and
has a regulating effect on excited and nervous conditions.
Aromatherapy
Bead Dispenser
(13881)

 Also Available:
13883 - Strip
Dispenser

Dispenser Cap
(13886-XX)

Other colors available






Dispenser Cap
(13887-WH)




Bead Scents
(10404-V)

Strip Scents
(10400-V)
Replace XX, YYY or ZZZ with the corresponding colors before ordering. To view the color chart 
click here »
For more information on Aromatherapy, download a copy of our brochure.
click here »